Eyelash Extensions Stockton on Tees
Overview
L.A. LASHES
L.A. Lashes of Stockton on Tees, use different types of Lashes in the eyelash treatment which are of a premier quality, and sourced from all over the world, all tried and tested before being introduced into our portfolio for the well-being of our clients.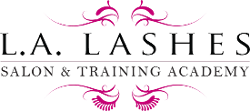 All the lashes used are made of a synthetic material and are 'faux' silk and mink as well as cashmere. We also have real 'mink' lashes – (but with no killing of the animal).
Step 1
The first step to your new set of L.A. LASHES
Is to book a FREE CONSULTATION AND PATCH TEST.

Here you will be required to fill in a Medical Questionaire to establish your suitability for the Lashes. If at this stage you have any illness or symptom that would put you at risk to having the lashes applied then we would not go any further.
We would also look at your own natural lashes to see what condition they are in.
For example MY OWN NATURAL LASHES have been damaged through the wearing of cluster lashes for over 30 years and although I would love to be able to wear "L.A. Semi Permanent Lashes "
I have gaps in my lash line and it would be impossible to apply a set of L.A. Lash extensions on my natural lashes!!!
Providing lashes are available to apply Lash extensions to then we will discuss the look that you are looking for taking into consideration the condition and appearance of your own natural lashes.
We will also discuss the different lashes that we offer.
Patch Test
A patch test will be then carried out and an appointment booked for at least 24 hours later.
A deposit will be taken to book your appointment.
YOUR APPOINTMENT
At your appointment – you are asked to arrive with no make-up on.
We will then discuss in more depth the look you are wanting to achieve and the lashes that we are going to use for your new set of L.A. Lashes to best accentuate your eyes.
We will then style the lashes accordingly.
We will take photographs of your eyes with no make-up on with your eyes open and also closed.
You will then be laid on a bed for the application of the lashes which will take approximately 2 hours for a full set of classic lashes.
A free check over appointment will be booked within 5 days and in the unlikely event of any lash extensions being lost – they will be replaced free of charge as we want you to be 100% satisfied with you new set of ' L.A. Lashes'.
Infills
Our own natural lashes have a life cycle of approximately 3 months.
Within that period the lashes grow for a month, lay dormant for 2 months and then fall out.
As some of the lash extensions will be applied to 'mature' lashes these will need to be replaced so that the lashes remain full.
Infills are required every 2-4 weeks with the majority of clients returning every 3-4 weeks.
To quaify for an infill there must be at least a third of your lashes remaining otherwise it will be classed as a 'new set of lashes'.
After the initial outlay, clients return only to have infills.
We have one client who has had only one full set of lashes since March 2013 and returns every 3 weeks to have them infilled.
This client goes running almost every day, goes on holiday with her young son and goes on fast adventure rides – and all her lashes are still intact!!!!
Related Listings
07535 932 282
09:00 x 16:00
Hair Extensions Billingham-Stockton-Teesside Forever Lengths Hair Extensions Billingham-Stockton-Teesside Forever Lengths of station road is the place to get your top quality hair extensions we fit and also sell sets.Read more…
57 Station Rd, Stockton-on-Tees, Billingham TS23 1AE, UK